Unfortunately with every good there is also the bad, and there has been some bad dressing going on at the MET Gala event. You lovely readers seem to love these segments, mostly because of my sarcastic honesty. If you wish to see the best dressed kindly go on the following link 🙂
http://sarahjanevella.com/met-gala-best-dressed/
So let's give it up for the worst dressed of the night :
Kate Upton
Kate is a supermodel, known for her slim body but curvaceous chest that every woman would die for, like seriously die for. If I had her body I would wear a beautiful figure hugging dress that any designer could possibly design come up with, and not this gypsy looking dress. What made this dress even-more unflattering was the flowers on her head, like seriously? If I could redesign the dress I would make the sleeve into straps and instead of the corset have a nice black belt to show of the waist. Finally I would have removed those hideous flowers and left it simple with that nice up-style.
Rita Ora
Well I am not much of a fan of her style in general, so to be honest I wasn't expecting much from her.  Basically the shoes and the dress don't go together. This is not a Hercules or Xena TV episode, this is the MET GALA , so please dress appropriately Rita. The dress by Donna Karan would have looked nice if she wore some nice sandals or shoes, it would have balanced the outfit and the result would have looked pleasant. A last simple suggestion, if the colors match it, it doesn't mean they can go together.
Katie Holmes
I think this Marchesa dress speaks for itself. What were you thinking Katie? Are you looking for the Beast ? cause you definately look like a bad version of  Belle.  For once, it is definately a size to big for her which is why it looks like it's falling off her small body. The style and cut of the dress is just wrong for Katie's petite frame. Sorry Kate, you need to look at yourself twice in the mirror next time.
Kristen Dunst
Ok I am all for being a Star Wars fan but there is a limit to everything. Dunst wore this ugliest dress by Rodarte, for which I have no idea what she was trying to pull off to be utterly honest. It looks like a child's project which entails having to design a dress that revolves around stars and the universe. It looks very cheap because of the variation of black fabrics and the fabrics themselves. Kirsten you should have done a better choice.
Shailene Woodley
Another Rodarte fail, were all the good designs taken ? or are these celebrities out of there mind? This dress looks cheap and what would have Pocahontas wore for her wedding day.  The top part doesn't really go with the bottom part and it's simply hideous and does nothing for the beauty Shailene is. Pity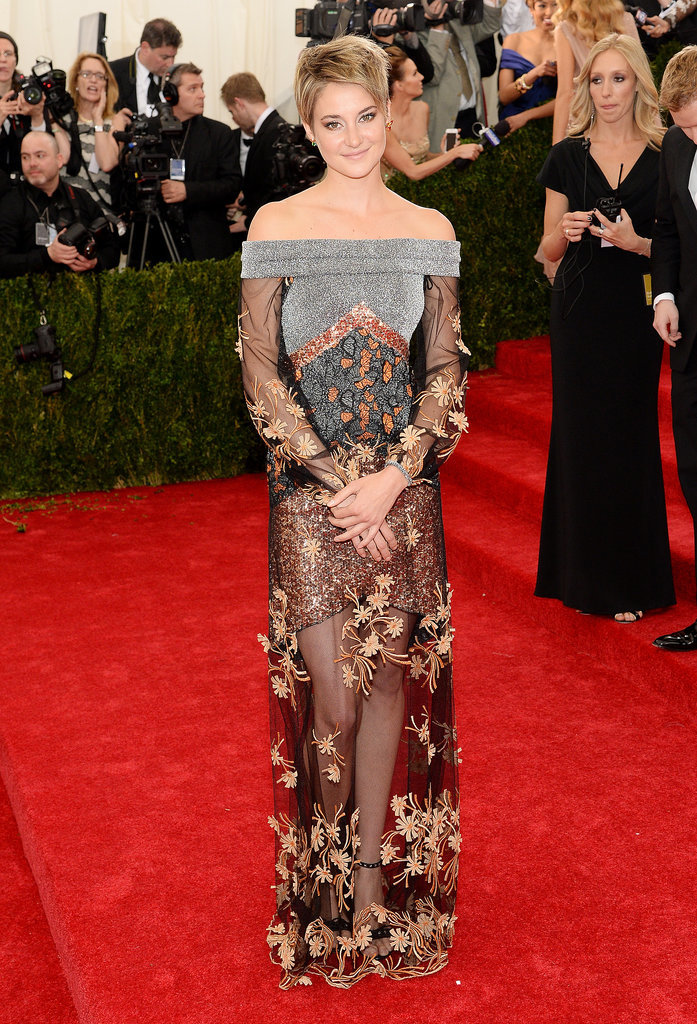 Lena Dunham
This dess by Giambattista Valli is simply beautiful, but not on Dunham. This Girl seriously has not idea what looks good on her body, I truly want to help this girl out, because she has no idea how to flatter her body.
Kristen Steward
I think her expression says it all, she is like saying "erm, they made me wear this dress, I didn't want to be here in the first place, but yeah you know, i'm here".  The dress wouldn't have been an utterly failure if she had a confident attitude and if the bottom sheer part was cut off and the skirt just a little bit longer.
Maggie Gyllenhaal
I don't remember Valentino designing this ugly dress, but I guess they did. This is not the 80's, so please let's move forward, Thanks
Lilly Allen
Recently I am loving what she is wearing on the red carpet but this was definitely not one of them. This Chanel Couture dress does nothing to extenuate her body, it is simply boring. Such a pity being that Lily Allen is definitely not boring. Take me dress shopping next time Lilly, you will definitely look flawless with my help :D.
Lupita Nyongo
I seriously love this woman and she has done great so far when it comes to fashion, but this was a disaster. It looks like a costume taken from the Great Gatsby and not in a good way. What were you thinking girl, next time don't follow the theme and just wear  a beautiful long dress.
So that is all for the worst dressed, there were a couple of more ugly dresses at the MET Gala but I wouldn't want to bore you, but these were definitely the highlight of the night (in a bad way unfortunately).
I hope you liked this segments, let me know what you think
XOXO
Sarah-Jane