Don't you love Spring ? I do and a lot :D. Spring and Summer have to be my favorite seasons. Days are longer, the weather in beautiful and we can start wearing some  bright and bold colours <3
Here are some Trends which you can start wearing this Spring:
1 Natural
I have always believed that Make-up is there to either enhance our beautiful natural features or else to express ourselves trough it. On the run way and even photoshoots, very natural make-up is used. The skin has taken center stage, it all about having a glowing natural skin, nude eyes with a minimum of liner and mascara. A bit of blusher to give the a bit of life and a soft pink lipstick. I think this look is perfect for everyday and even for a lazy Sunday. My favorite products to create such a natural look : Vichy dermablend foundation, MAC Creme cup lipstick, MAC blusher Dollymix, Benefit They're real mascara.
2 Orange Lips
When I was a little kid, I always loved wearing bright colours but I would never wear that any colours outdoors. Now I love wearing the occasional red and of course a lovely coraly orange colour.  I do suggest you find the right shade of orange that goes on with you skin colour, not every orange lipstick will look good on you.  For those with a fair skin complextion, I guesst a pinky orange with very little yellow in it, this way the shade complements the skin without crating a stark contrast and without highlighting the fairness of the skin, that would make you look to pale. As for those with a medium toned skin complextion like me, they can use the most classical, bright and bold colour. Almost all shades look good on someone with a medium tone except for those with blue eyes,  they should opt for something darker. As or thise with a warm and dark skin complexion, the ideal choice is a type of orange reminiscent of peach that brighten up the face and soften the greenish effect typical of Olive skin tones. Also beware of bright hues at it can be quite a make-up disaster.My Favorite Orange Lipstick : NYX Matte Lipstick – Indie Flick
3. Blue Eyeshadow
I have always loved bold colours and blue eye-shadows have truly taken center stage in recent fashion shows and even on the catwalk. Eventhough I love to experiment with colours and eye-shadows, do be careful how you apply such colours, make sure you blend well and make sure such a colour look on your skin tone. I loved using such colours on look I did a while ago. My Favorite Blue eyeshadow: Pupa Milano Vamp! Compact eyeshadow 300 
4 Cat eyes
Cat eyes are such an easy way to look sexy without the need to put too much make up on. Just apply a nice winged eyeliner, and some mascara and your ready to go. If you have beautiful eyes there is really no better way to flaunt them.  There are various ways to create this winged liner,  if you have small eyes don't do a very thick liner, leave it thin and simple. If you have big eyes, any  both winged liner will look good on you both thin or thick. My Favorite eyeliner has to be the NYX The Curve eyeliner.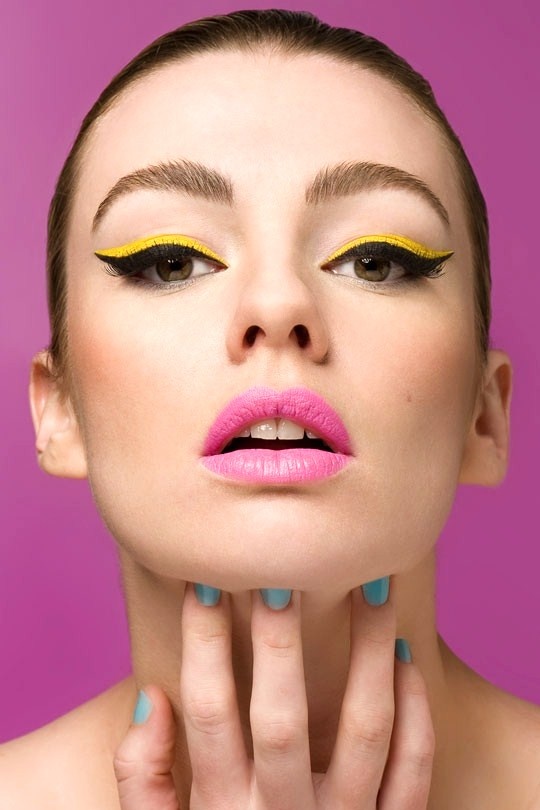 5 Think Gold
In spring we slowly start getting some colour and there is no colour that looks better on a bronzed skin than some gold. Gold for me screams beach-tan-spring-summer <3. My favourite gold eyeshadows are from the Naked 3 Palette by Urban Decay
6 A pop of Green
I have to admit I rarely wear green, I don't have any green clothing apart from a shirt here and there, and it's not one of my favorite colors. Yet I have to admit that it's a great colour for anyone with very light eyes and complexion, I think on me looks a bit silly on its own but with blended with a mixed array of colours it can look pretty good.  My favorite Green shadows have to be from the NYX eyeshadow set palette.
What is your favorite Spring trend? Would love your opinion down below 🙂
Happy Spring
XOXO
Sarah-Jane